The Books


Flowers for Algernon -also available on audio cassette!

The Touch-Back in print - Newly revised edition!

The Minds of Billy Milligan -paperback is back in print!

The Milligan Wars -(Japan)Forthcoming in the U.S.A.

Daniel Keyes Collected Stories(Japan)


The Daniel Keyes Reader (Japan)


Until Death...(Japan, under the title Until Death Do Us Part:The Sleeping Princess)

Algernon, Charlie and I: A Writer's Journey

NOW AVAILABLE!


A new novel by Daniel Keyes
The Asylum Prophecies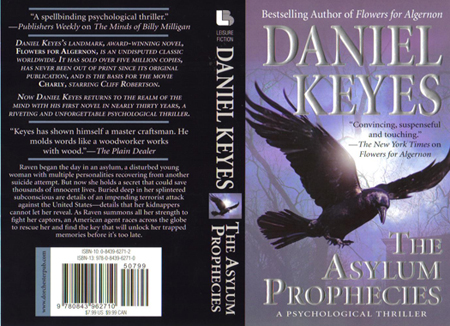 Daniel Keyes╠ landmark award-winning novel, Flowers for Algernon, is an undisputed classic worldwide. It has sold over five million copies, has never been out of print since its original publication, and is the basis for the movie Charly, starring Cliff Robertson.

Now Daniel Keyes returns to the realm of the mind with his first novel in nearly thirty years, a riveting and unforgettable psychological thriller.

Raven began the day in an asylum, a disturbed young woman with multiple personalities recovering from another suicide attempt. But now she holds a secret that could save thousands of innocent lives. Buried deep in her splintered subconscious are details of an impending terrorist attack against the United States█details that her kidnappers cannot let her reveal. As Raven summons all her strength to fight her captors, an American agent races across the globe to rescue her and find the key that will unlock her trapped memories before it╠s too late.


Dorchester Publishing
Available wherever books are sold