New Harcourt Paperback available September 2004:



Hardcover
Challcrest Press Books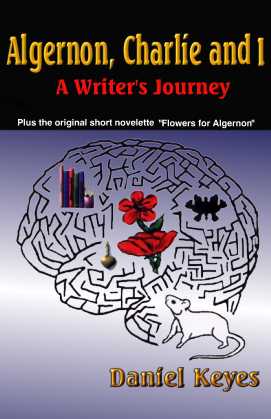 Algernon, Charlie and I: A Writer's Journey

Published by Challcrest Press Books (hardcover, 2000) and Harcourt (trade paperback , 2004)

In the short novelette, "Flowers for Algernon," and in the novel version that followed, author Daniel Keyes created an unlikely duo that has captured the hearts and minds of readers around the world. It is the classic story--part of which has now come true--of an experiment to increase intelligence, in which researchers first transform a laboratory mouse named Algernon into a genius. Charlie Gordon, who tells them, "I want to be smart," eagerly volunteers to follow in Algernon's four-legged footsteps through the maze of acquiring knowledge and learning about life.

Now, Daniel Keyes reveals his methods of creating fiction as well as the heartbreaks and joys of being published. For the first time, Keyes shares with readers, writers, teachers and students, the life behind Flowers for Algernon.

All those who love stories and storytelling are invited to join Algernon, Charlie and the author on this funny, sad and inspirational voyage of discovery.

Reviews of Algernon, Charlie and I
"Part autobiography, part writers' manual, this book is a fascinating and highly engaging look at the creative process and development of an author. Beginning with the childhood that provided him with the impetus and material to write, Keyes traces the public and private evolution of his Hugo Award-winning Flowers for Algernon as a novelette, novel, stage adaptation, cinema production, and a made-for-TV movie. He shows how successive disappointments like the transfer of the showstopping musical number Tomorrow changed the fortunes of both the stage version of Algernon and the eventual recipient of the song, Annie. This book succeeds as an insightful first-person account of the difficulties and joys of the writing life, and as one of the most useful writersÌ manuals to be published in a long time."
--School Library Journal, September 2000
"Seldom has an author of a 20th Century Classic taken us behind the screen of creation with as much candor as Daniel Keyes has in this new book. For the more than eight million people who've read Flowers for Algernon, here is a wonderfully nostalgic trip, eavesdropping on the writer's life in the act of discovery. Algernon, Charlie and I should also be read by every would-be-successful writer eager for behind-the-scenes insight into the writing life's luck, skill, pain, hope, and of the misadventures and final triumph of creating a classic work."
--Sol Stein - Formerly of Stein and Day Publishers, Author of Stein on Writing
"["Flowers for Algernon"] has often been cited as having one of the most perfect and perfectly-controlled narrative arcs in the entire history of the short story, and its career as one of the genre's great multimedia properties is equally impressive; it has been adapted in more ways and over a longer period of time than any other modern SF work...Algernon, Charlie and I makes it clear that Keyes, like vast numbers of his readers, has been haunted by Charlie for so long that he needs some kind of closure, if not exorcism. This book may not accomplish that, but it offers a fascinating glimpse into how a lifetime of experiences was distilled into a single classic novella, and along the way offers a substantial number of insights into the craft and art of fiction.
--Gary K. Wolfe - LocusMagazine